Calling All Foodies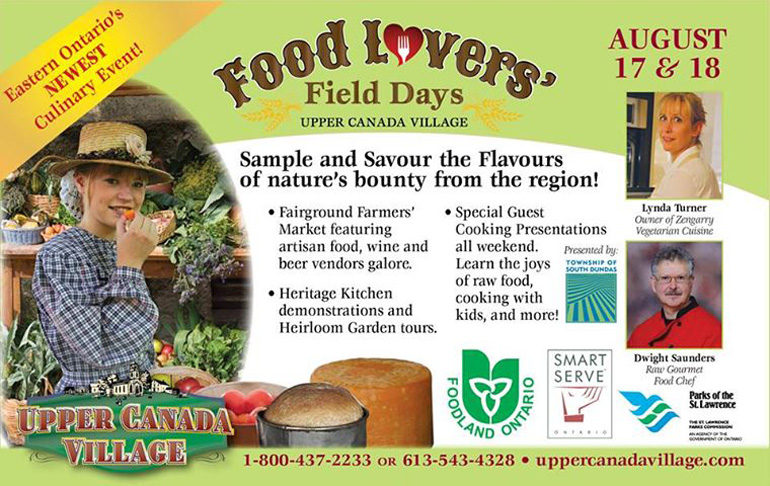 Cornwall, ON – August 13, 2013 – Foodies unite at the historic Upper Canada Village to celebrate all things food and drink at the Food Lovers' Field Days held August 17 and 18.
What promises to be an eclectic collection of food artisans will be tempting the senses with the aromas and flavours of regional foods and beverages such as artisan cheeses, signature pizzas made with Village milled flour and baked in an authentic beehive oven, chocolate specialties, health foods and mixes alongside local craft beer and Prince Edward County wines. Take your taste buds on a trip around the world with a range of tantalizing ethnic foods such as Indian, Thai, Ukrainian, Greek and Mexican dishes.
Not only will you be able to get your foodie fix, you can also learn from some the best with great demonstrations and teachings from local experts. Watch as Schnitzel's Chef Troy Paquette creates an Upper Canada Village signature pizza made from all natural ingredients directly from the Village. Dwight Saunders of Iroquois' Aura Culinary Arts will be demonstrating everything from eating wild edibles to making your very own non-dairy cheese at home. Finally, Lynda Turner of Health Canada and Alexandria's Zengarry Vegetarian Cuisine will help; get you prepared for back to school lunch preparations with sessions "Cooking with Kids" and "All About Greens."
The delicious excitement kicks off Saturday, August 17 and continues through Sunday, August 18. Entry to the event is included with your pass to the historic Upper Canada Village. See a complete list of presentations and delicious foods that will be available right here and don't miss this great opportunity to celebrate unbelievable, local food and drink.