Cornwall Ribfest Promises a Saucey Good Time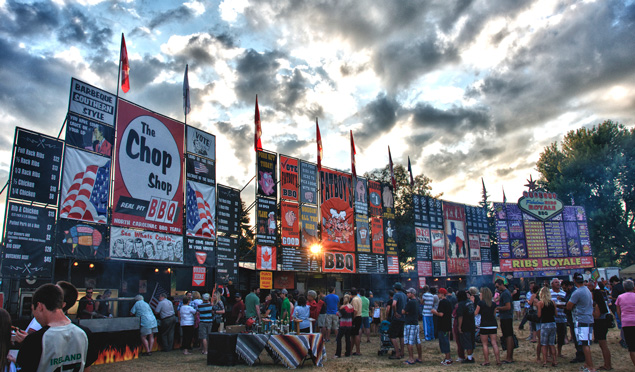 Cornwall, ON – June 24, 2013 – The hottest, juiciest, sauciest event in Cornwall is back after a wildly successful inaugural event last year. The Cornwall Seaway Lions Club Ribfest that took over the beautiful waterfront Lamoureux Park is set to do it all again, this time even bigger!
The Ribfest circuit has been one of the most successful events across North America, and last year's stop in Cornwall proved to be no different. For a first time event, Ribfest organizers were anticipating approximately 20,000 patrons to the festival. Instead, 47,000 showed up at the park throughout the weekend to savour the delicious ribs, and the awesome entertainment. So unanticipated was the turnout, that the entire weekend's supply of ribs were sold in the first night, and a truckload of supplies had to be shipped in to keep a riot from happening the next day for lack of deliciousness.  No doubt the ribbers and organizers won't let that mistake happen again.
Of course, a festival isn't complete without the entertainment, and the Cornwall Ribfest has a great combination of local and international artists to help celebrate the event. The entertainment spans musical genres and includes recording artists Hoyt Hughes, Greg Hanna, and local favourites, Switchgear and the Shiners, among many more— be sure to check out the full entertainment lineup here.
.
One of my favourite aspects of Ribfest (aside from the best darn ribs I've ever tasted)? A little brewery making it big: Beau's. Beau's returns as the beer garden sponsor, and I couldn't be happier. Not only are they all-natural, family-run, and local(ish—they brew in Vankleek Hill, Ontario), but they produce a delicious craft beer that is a welcome change for beer drinkers from the typical large company beers offered at most venues.
The beer is for the adults, but the festival is for the entire family. Cornwall Ribfest has a great Midway carnival for the youngsters, including exciting rides and fun carnival games. But, perhaps the most family friendly aspect of Ribfest is the admission costs: NONE! Cornwall Ribfest is a free admission event, making it inclusive to all families.
So, from July 26-28 I know where I will be: in the gorgeous waterfront Lamoureux Park, listening to some great, live tunes, ice cold Beau's in my hand, and rib sauce covering my face. I can't think of anything better!