MacMaster and Leahy to Headline the 2014 Glengarry Highland Games
Cornwall, ON – July 24, 2014 – The Glengarry Highland Games is excited to announce that Natalie MacMaster and Donnell Leahy will be the headliners at the sixty-seventh Games Tattoo on Friday, August 1, 2014. Tattoo Chair, Dale Munro, each year searches the world for the best celtic entertainers to bring their magic to Glengarry and the Games. This year will be an outstanding show with two of Ca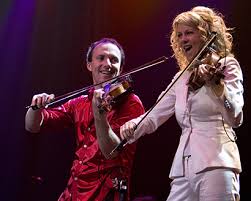 nada's brightest stars who have been captivating audiences all over North America with their exceptional musical skills and obvious joy of playing together. Since their marriage in 2002, Natalie and Donnell have combined their incredible individual talents, giving audiences a remarkable musical experience with each and every performance.
Both born into musical families, Natalie and Donnell entered into their musical careers naturally. Hailing from Cape Breton Island, Natalie received her first fiddle at the age of nine. Her first recording was released when she was only 16, launching a career that has lasted for over 30 years. With amazing dedication to her craft, Natalie has received numerous awards in the US and Canada, recognizing both her musical talent and importance to Cape Breton's fiddling tradition and international profile. Natalie's performances leave her audiences hollering for more as she and her band wow them with stylistic diversity without losing the traditional Cape Breton groove. Although her stage presence is reason enough to see one of her shows, it's the elegance with the bow, the intricate technique with the fiddle, and the embrace of the Cape Breton tradition that floors her admirers at countless shows every year.
Honing his remarkable talent since the age of three, Donnell has literally spent his entire life with a fiddle in his hand. His initial skills were learned at home from his parents – a fiddle-playing father from Ontario and a step-dancing mother from Cape Breton. With a well-trained ear it is no surprise that, as the musical leader & front-man of Leahy for over 15 years, his own style emerged; some even say he even created a new genre of music known simply as "Leahy." Combined with his mesmerizingly strident, exultant, and high-energy performances, this style has become Donnell Leahy's musical signature.
Now, after over 10 years of marriage and six children, Donnell and Natalie have turned their sights to combining their musical and home lives. By incorporating family into their performances and travel, they have found the perfect way to maintain a healthy work-life balance. Donnell & Natalie strive to bring up their children with the same home, faith, and musical heritage each of them received. Fiddling, step-dancing, and piano lessons find their place alongside hockey sticks, school books, and family events.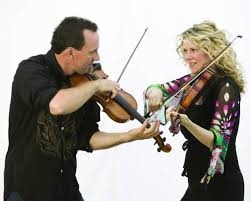 A "Natalie & Donnell" performance is not soon forgotten. From the first note, audiences recognize the amazing talent being poured out before them. Riveting original pieces, traditional Cape Breton tunes, step-dancing, story-telling, and a joie-de-vive you have to see to believe, Natalie and Donnell have created a musical progeny that is in all ways unique and enticing and ensures that a strong Canadian fiddling tradition will exist for years to come.
The Natalie MacMaster and Donnell Leahy performance will take place Friday, August 1, 2014 as part of an impressive lineup for the famous Tattoo and Concert. Admission is included as part of the daily Games ticket but grandstand seats are limited. Online sales will begin May 15, 2014.